Award Name here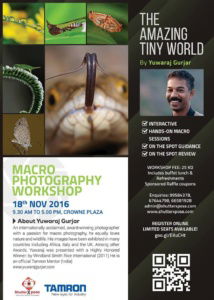 ShutterXpose Photography is completing it's 5th year Anniversary with a vision to Inspire, Promote and Educate Photography. To commemorate the occasion, A Macro Photography workshop "The Amazing Tiny World "by Award winning Internationally acclaimed Photographer "Yuwaraj Gurjar" at the Crowne Plaza Banquet Hall on Friday 18th November 2016. The event is brought in association with Tamron Kuwait, one of the leading lens manufacturers for DSLR cameras.
Yuwaraj Gurjar is a Tamron (India) mentor with many International award, among the Highly Honored Winner Award by Windland Smith Rice International (2011). He is also a author of many books and publication on Macro Photography, recently he along with his team has developed an Android app on Butterfly "I Love Butterfly" which covers more than 128 species.
Macro Photography is quite intimidating aspect of photography, photographers spends hours working on the backyard capturing images of butterflies, flowers, insects, etc. These images looks appealing with lots of details in a 1:1 ratio. However the principle of Macro photography and use of Macro lens can be used in Product, Jewelry, Food and also in Nuptial Photo shoots.
It's a great opportunity to learn the techniques from the experts in the Industry. The Macro Photography workshop will be an day long Interactive hands-on Macro session with the following topics.
Session Includes:
Introduction to Macro Photography
How to think like a pro macro photographer
Key difference between shooting macro and close up
Various equipment's and lights used in macro Photography
Technical details and hands on explanation of each equipment's.
Controlling sharpness in macro photography – how to avoid blur
Depth of field in macro photography
Skills and expertise for taking great shots including techniques on Background, Composition and Magic angle
Using natural and available light in macro photography
Working with higher magnifications in macro: what challenges will you face and how to overcome them.
Using off-camera lighting (flash) in macro photography
Focus stacking techniques
Bring Along:
Your Camera (DSLR Preferred)
Macro Lens OR Extension tubes (if you don't have, we shall share)
External flash (if your camera does not have pop-up flash)
Includes:
Buffet Lunch & Refreshments
A chance to win Raffle coupon by event sponsors.
Certificates to all participants.
WORKSHOP FEE: KD 25/-